CHY Textured blended Art Yarn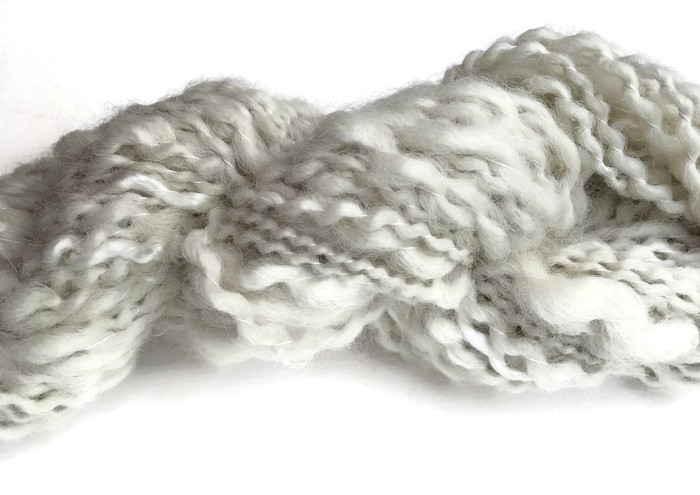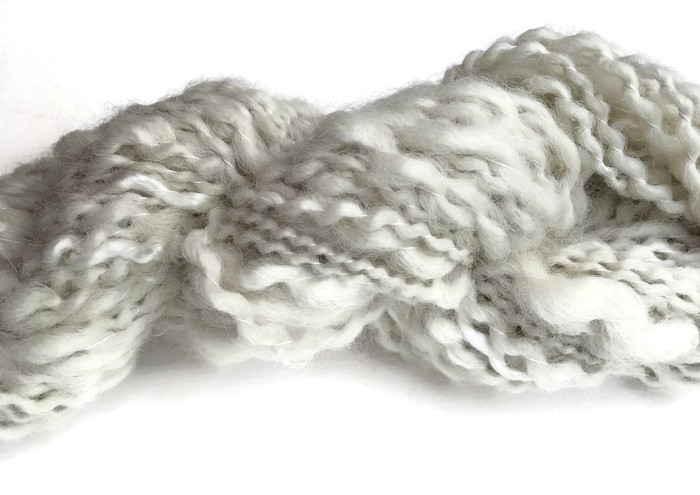 CHY Textured blended Art Yarn
Don't miss our 20% off coupon and free USA shipping, click the announcement bar!
These yarns are perfect for a really special project that needs a little something extra. The unusual textures will make the simplest pattern or project really come to life. Blending different types of fibers gives these yarns an extraordinary look and feel that makes crafting a real joy. Check back often to see what we have dreamed up next!
" Coral in the Desert"
Hand blended Shetland & Freisian wool with hand dyed Faux Cashmere and Bright Pink Silk Neps.

4 oz of Thread played yarn

Slightly thick and thin between DK and Worsted weight

Approx 100 yards.
"Chocolate Alpaca Twist"
3 oz of Thread played yarn

Incredibly soft and silky directly from a small USA farm

Slightly thick and thin between DK and Worsted weight

Approx 75 yards.
"Snow Drift, Silk and Alpaca"
This chunky weight thick and thin yarn is silky and fluffy and light as air just like a new powdery snowdrift that settles overnight.
Approx 2 oz

Approx 42 yards

Hand blended from White Alpaca from one of my favorite local ranches outside of Oak Ridge Tennessee.

Hand blended with 100% white silk which adds a magically shine and softness.

The Yarn is thread plyed with white thread to give it an amazing light texture
"Sand Dunes"
This super soft art yarn is reminiscent of silky sands and sea grass. A fluffy single ply of soft white merino wool has been handblened during the spinning process with chocolate BFL wool from our very own Barnyard Blue farms with a touch of hand dyed wool locks in a dark pink and light brown. The natural sheen of the BFL and the soft curl and color of the locks perfectly set off the simplicity of the merino. This yarn would be amazing in pretty much any project. It is soft and flexible with lovely drape and soft texture. This chunky yarn is very dense and squishy
4 oz

approx 50 + yards

may cause nostalgic feelings of summer vacation all year long.
Barnyard Blue
Barnyard Blue is named for the sweet small farm in VA where the Chocolate BFL came from. The vivd blue accents are dyed blue Locks from another small fiber business and friend. I adore BFL because it always manages to look natural and simple while having a beautiful luster to the wool that I find hard to duplicate with other fibers. You can find some of the white BFL blend from barnyard blue here on our site if you'd like to experiment with this lovely wool your self.
worsted weight single ply is slightly thick and thin for rustic appeal and versatility

Every skein is slightly different due to hand placement of the locks.

approx 4 oz and 60 yards

proven to cause happiness upon squishing it.
Punk Rock Tweed
The perfect tweed yarn for when you can't decide if you're feeling a little traditional and a tad edgy
Natural small farm shetland wool in tan hand blended and then spun with merino wool and silk noil for the fun pops of tweed color and texture. This yarn is also laced with bright colored hand dyed bamboo for softness and sheen.
bulky/chunky weight 6-7 WPI

4 oz

approx 50 yards