Now that you can spin singles let's talk about plying.
Plying is taking two singles and then spinning them counter clockwise ( or the opposite way that you spun the singles). This creates thicker yarn, color variation and a stronger more even yarn. That being said I think there's a lot to be said for single ply yarn. This is where you would really want to take the final outcome into consideration. Some fibers that spin smoothly and evenly may behave better as singles or doubles while some yarn may give you a more polished look as a double.
Congrats! I'm so excited you've made it through the videos and homework. I really hope that you are now feeling more confident with your spinning ability. The most important part is to keep trying and keep learning. Keep tweaking your technique and how to hold your hands and how fast to move your feet until it feels perfect to you. Sometimes it helps to not concentrate so hard, spin while talking to loved ones or watching a favorite show on TV. This will force you to just feel the yarn and the movement and not stress over it. I have designed this course to be gone through once and then referred back to as you need to focus on certain skills. Please reach out to us if you're stuck on something. You can do this in our facebook group that's private and just for people who have paid to take this course so everyone will probably have similar questions and we can all learn together. If you'd like some private help please email me at erin@craftyhousewifeyarns.com and either myself or an expert in whatever subject you need help with will respond to you as soon as we can. I also have an extensive youtube channel with many spinning demos and smaller tips.
Congratulations you should feel proud of yourself. You are now taking part in an important skill that has been passed down from generations to generation since the dawn of society as we know it.
This is a private group just for students of this course. Once your request join an admin will check that you're enrolled and then approve you.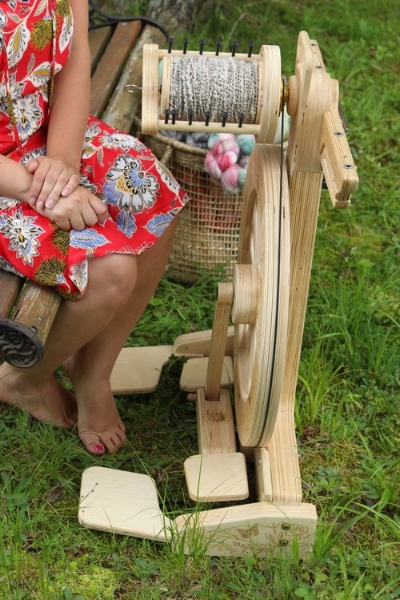 Learn about the wheels seen in this course
feel free to email me with any questions Erin@craftyhousewifeyarns.com
Below is a fantastic new resource to connect you to YOUR LOCAL fiber community put together by a friend of mine in the fiber world.
As far as magazines go Ply magazine is probably favorite It's more of an Indie digest so its like getting a book in the mail a few times a year. They also have a books section
A bit more traditional but still a fantastic magazine, Spin off . You can even get a kindle subscription.